Don't Forget!  Fishing Pole and Stringer are  required.  Pole rentals are available in the General Store if neccessary.

       Derby Fees:

    Adult 13yrs up  . . . $35     Youth 12yrs & under . . $25

    Day (No Fishing)  . .$17     (2yrs & under). . . . . . . Free

                     Adult limit 5 lbs, Youth limit 3 lbs.

                    Adult & Youth: $5 per lb over limits.

   Come Join Us!!  No Reservation Needed, Walk-Ins Welcome! 

                     All donations are tax deductable!!              

        You're Invited!  Barbeque Lunch & Picnic is included with your Derby Pass and is served immediately following the Derby!  Also included is one raffle ticket with each Derby Pass.  Prizes to all winners will be awared during the Lunch Picnic.

900 Anzar Road, San Juan Bautista. Ca  95045



                               NO FISHING LICENSE REQUIRED! 

       STOCKED WITH TROUT, BASS, STURGEON, CATFISH & BLUE GILL! 



For

Group 

Reservations

Please Call 

  831-623-4263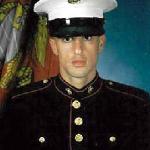 Fifth Annual Memorial Scholarship Trout Derby!

                        Armed Forces Day, May 16, 2015

"Our mission is to observe families and friends in the art of fishing, spending time together, experiencing the same joy and excitement that Jeramy came to know as a child and became passionate about as an adult, while honoring his sacrifice, honoring the Armed Forces and raising funds to support the scholarship.

    Come out and fish in honor of the Armed Forces!" ~ Lana Ailes

Remembering Lance Corporal Jeramy A. Ailes!

    In affiliation with   

    Some Gave All -   

  The Joey Graves 

       Foundation

   A 501(C)(3) non- 

      profit Fed Id 

     #27-0176739

     All Sponsors & 

     Donations are 

         Welcome 

       Thank  You!!


                Schedule

   6 am.       --   Check-In

   7 -11 am   --   Derby

  11:30 am   --   BBQ  &                          Prizes